Construction Contractors Association
Patty Dalton
Executive Assistant
On July 31, 2018 The Wall That Heals—the Vietnam Veterans Memorial Replica and Mobile Education Center arrived in Newburgh, NY escorted by some 400 motorcycles paying tribute to the 58,318 names inscribed on The Wall. The Wall, a three-quarter replica of the National Vietnam Memorial in Washington, would be at the Newburgh Waterfront for four days to allow veterans of the Vietnam War, family members and others to honor those who made the ultimate sacrifice and to honor all who served during that War.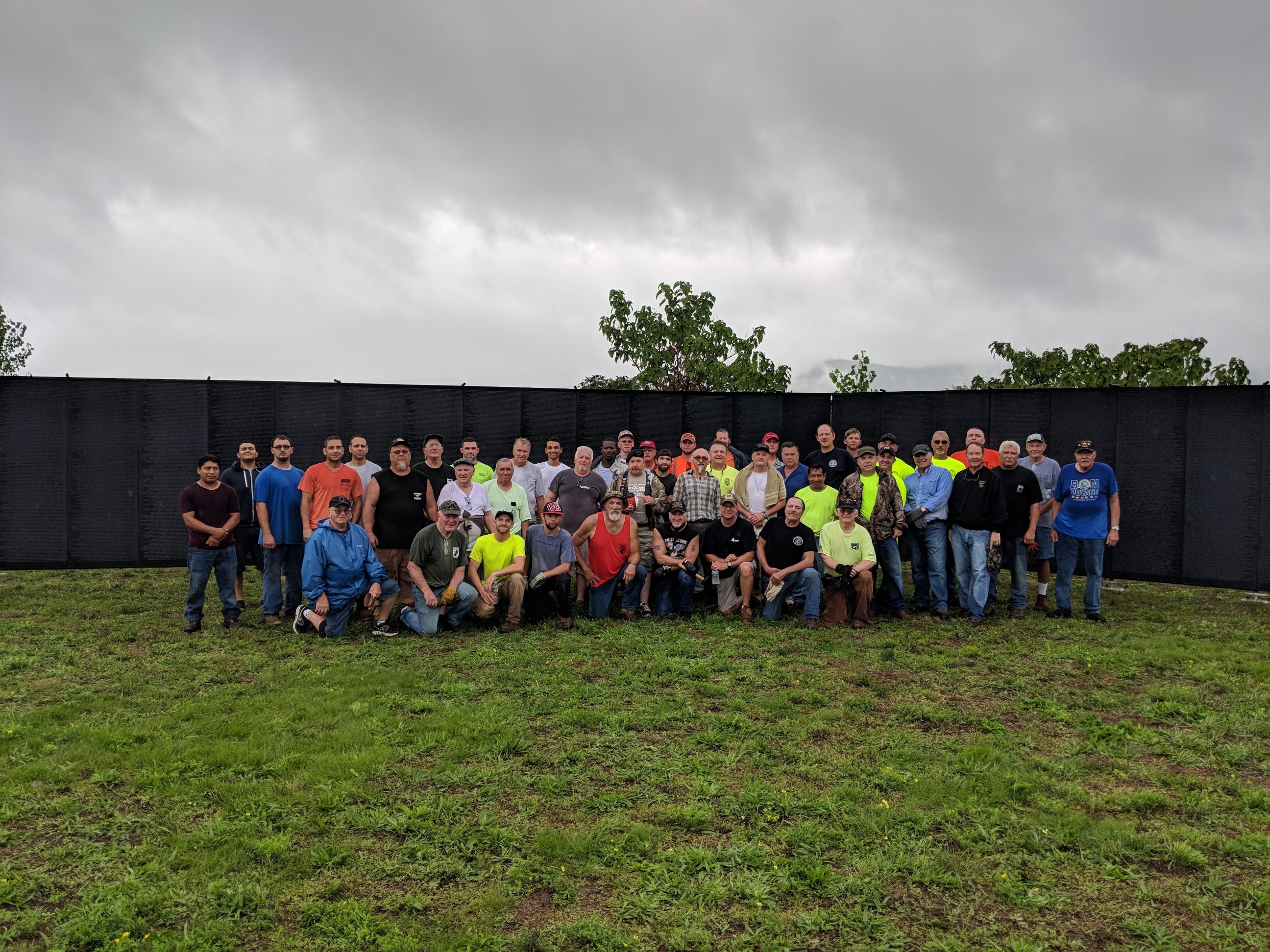 I signed up to volunteer with many others for five hours during that weekend—a tremendous honor that moved me deeply by what I saw and experienced during my time at the site of The Wall. You could spot the many volunteers by the bright red shirts all over the site ready to help a family member find a name or listen to a story or assist those walking across the wet and muddy grass. There was another group of volunteers not seen by many, without whose help the event would not have been possible—The Hudson Valley Building Trades members. Approximately 50 members of the local building trades showed up at the site on Wednesday, August 1st to assemble The Wall—which is 375 feet in length and 7.5 feet at its highest point and contains 140 separate panels. In the pouring rain the union members worked to put The Wall together. I was told by several people that the reverence, care and respect that these workers treated the parts of The Wall was touching. They carried each panel, almost as if it were a casket, slowly and solemnly, working together mostly in silence until The Wall was completed. No press captured their work, no one interviewed them for a news article—they came, they worked, payed their respects, and left almost unnoticed but by a few veterans who watched in gratitude. On Sunday afternoon after the event closed, the same group of union workers returned, and in the same solemn and respectful way, disassembled The Wall so that it could be transported to its next location.
Working for CCA for 33 years I've always been proud to promoted union labor—you can't match the skill and quality of work I tell people. What the Building Trades did this past weekend was an illustration of something else we've always promoted to owners and developers—local union labor is made up of local men and women who live and work in the area. They shop locally, support local businesses and support community events. They volunteer at the local firehouses, little leagues, and PTAs. They are our neighbors. I was tremendously proud of our industry this past weekend. What I heard multiple times about the quality of work and the attitude of 50 individuals who came and assembled and disassembled the Wall confirmed what we have been saying about union labor for more than 60 years—they are the best.